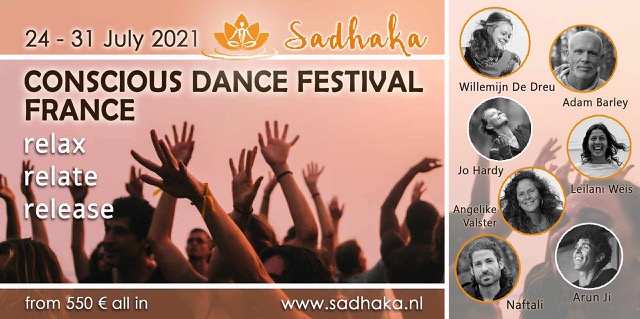 Een uniek dans festival in Frankrijk
Met blijdschap en trots nodig ik je uit op dit unieke festival, max 65 deelnemers en 7 (dans) docenten waar ik stemworkshops geef vanuit de Soul Voice® methode.
Een week om te rusten in beweging, om verandering te verkennen en hoe jij daarin, in die verandering, in je centrum kunt blijven. Een festival voor heling en voeding voor je lichaam, hartverwarmend, een roep voor je ziel om thuis te komen.
THE SADHAKA CONSCIOUS DANCE FESTIVAL IS UNIQUE IN ITS KIND
… With only 65 participants… 7 dance teachers… 7 days of embodied exploration and celebration.
A festival that heals and nourishes the body, warms the heart, tickles the mind and calls the soul to come home. A week where you can rest in motion and explore change in its many faces.